Toolmaker Supplies Ltd. (TMS) – eCommerce and Company Disposal Project
On 05/03/2023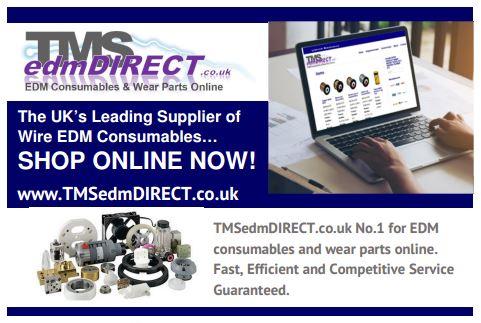 A successful outcome - The Directors disposed of the business, stock and customers successfully as required some 8 months after the eCommerce project was completed.
The Company
Toolmaker Supplies Limited is an engineering supplies company based in Malvern Worcestershire, United Kingdom. Toolmaker Supplies Limited was founded in 2002 and has since grown to become one of the largest independent stockists and suppliers of Wire EDM Spare Parts and Consumables in the UK.
Ex-stock supplies include: EDM Drill Guide Holder, Pneumatic Fittings, Bearings, Chemicals and Additives, Collets, Connected Parts, Continuous EDM Wires, EDM Tubes, Fixings, Guides, Insulator Plates, Jet Nozzles, Power Feed Contacts, Pumps, Resin & Vessels, Rollers and Pulleys, Tapping Electrodes, Vices, Water Nozzles and Wire Guides
Toolmaker Supplies (TMS) hold an extensive range of quality products in stock for immediate despatch.
The Brief
To provide a fully integrated ecommerce website with integration into the existing business processed including the Sage Accounts and Inventory system.
Create a brand identity for the eCommerce offering.
To build the brand of both the TMS main business and the new eCommerce solution
To introduce customer facing technologies such as CRM and eMail Marketing
Build on existing advertising activities to increase ROI
Create an environment that will assixt in the Directors exit/disposal strategy.
Considerations
Website eCommerce Ready – WOO ecommerce plugin installed on original site and used to display/request quotes for products – Not initially used as a true eCommerce solution.

Sage 50 Cloud Accounts to be integrated via 3rd Party technology (phase 2).

eCommerce Site required new Branding to differentiate – different look and feel – slightly different user demographic.

New Domain was required and existing site duplicated into that domain.

Consider Customer Benefits "Why eCommerce"

Integrated dispatch – delivery pricing/returns policy – possible integration with DHL/UPS tracking.

Presentation to customers and promote – Directories/Press/eBlasts/CRM.

Project Plan.

SEO and Analytics sub-project

Costings (phase 2) Sage integration

Inhouse Processes / Tech Sales Support (FAQ)

Project Milestones and Costs.

Tasks and Timescales.

Social Media Integration

Online B2B portals (specialist eBay/Amazon).

Special Sales and Discounts

Training – Inhouse & Support

Stats, Reports and Measurements

Marketing Plan (Active!)
Execution
Technically this would not be a difficult task to migrate the existing website onto another domain and activate the WOO eCommerce functionality, There followed a two pronged exercise; to redesign the look and feel of the site to reflect the technology and audience, and to transcribe the prices and costing model for shipping etc. (manually for phase 1)
SEO was undertaken at this stage utilising YOAST.
From a commercial and marketing point of view, we needed to introduce the benefits to the customers (various statements and commitments etc.) devise policies (pricing, discounting, returns and Ts & Cs).
Embarked on using ALL Channels to communicate with the customer base old and new – Social Media was brought into the mix and 3rd party portals included. CRM system introduced: Insightly, with MailChimp and Direct Mail?
This was quite a complex project. Therefore, a project plan was created with Milestones. Tasks, Timescales and Costs. A software solution was used to manage and share this (Project 365)
The Phase 2 Sage integration represented a secondary project and managed accordingly.
Integration of In-house processes, training and support was undertaken as the project develops.
Result
The Directors disposed of the business, stock and customer successfully as required some 8 months after the eCommerce project was completed.